I'm thrilled to welcome author and executive Emmanuel Probst on Uncorking a Story. Emmanuel's background combines over 16 years of market research and marketing experience with strong academic achievements. He joined me to discuss his career and latest book, Assemblage: The Art and Science of Brand Transformation.
Key Topics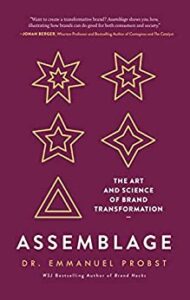 00:00:00 Introduction
00:02:29 The Fulfilling And Compelling World Of Market Research
00:05:21 Traditional Market Research Vs. Technology
00:09:07 The Evolving Role Of Brands And Branding.
00:15:07 The Increasing Risk Of Brand Backlash
00:18:24 Testing The Concept Of A Transgender Spokesperson In Marketing Campaigns
00:21:21 Transforming Brand And Market Research In The Digital Age 
00:26:20 Recall And Transforming Consumer Attitudes Towards Products
00:32:57 Tacky Advertisements Don't Build Brand Equity
00:39:03 How To Purchase Assemblage: The Art And Science Of Brain Transformation Book
Buy Assemblage: The Art and Science of Brand Transformation.
Amazon:https://amzn.to/3HhTlfV
Bookshop.org: https://bookshop.org/a/54587/9781646871254
Connect With Emmanuel
Website: https://www.emmanuelprobst.com/
LinkedIn: https://www.linkedin.com/in/emmanuelprobst/
Connect with Mike
Website: https://uncorkingastory.com/
Youtube: https://www.youtube.com/channel/UCSvS4fuG3L1JMZeOyHvfk_g
Instagram: https://www.instagram.com/uncorkingastory/
TikTok: https://www.tiktok.com/@uncorkingastory
Twitter: https://twitter.com/uncorkingastory
Facebook: https://www.facebook.com/uncorkingastory
LinkedIn: https://www.linkedin.com/company/uncorking-a-story/
If you like this episode, please share it with a friend. If you have not done so already, please rate and review Uncorking a Story on Apple Podcasts, or wherever you get your podcasts.