Imagine sitting with an acquiring editor who just offered you a multi book deal to write a series based on your first book and telling them that you will think about it. Sounds crazy, right? Well, that's just part of prolific writer Craig Johnson's amazing story.
Meet Craig Johnson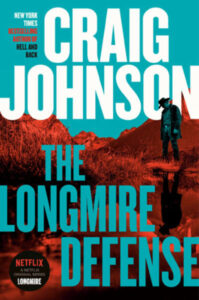 Craig Johnson is the New York Times bestselling author of the Longmire mysteries, the basis for the hit Netflix original series Longmire. He is the recipient of the Western Writers of America Spur Award for fiction and the Mountain & Plains Independent Booksellers Association's Reading the West Book Award for fiction. He lives in Ucross, Wyoming, population twenty-six and joined me today on Uncorking a Story to talk about his career and latest book, The Longmire Defense.
Key Takeaways
The importance of perseverance: Throughout the conversation, Craig Johnson emphasizes the need to stay focused and dedicated to one's craft. He shares his own experiences of facing challenges and setbacks but ultimately persevering to achieve success as a bestselling author.

Listeners will learn the value of persistence in pursuing their own goals.

The power of raw energy and dissatisfaction: Johnson reflects on the early stages of his career and acknowledges that a certain level of restlessness and dissatisfaction can be a driving force for creative individuals. He encourages listeners to

embrace their passion and harness their raw energy

to fuel their work.

The significance of preparation: Johnson emphasizes the importance of being prepared for the unknown. He uses the analogy of taking a road trip without a map to highlight the need for writers to have a plan and be ready for any obstacles that may arise. Listeners will understand t

he value of thorough preparation

in their own creative endeavors.

The need to challenge conventions: Johnson encourages writers to break the mold and

engage readers by offering something unique and different

. He advises against writing something that sounds like what has been read before, urging writers to push boundaries and captivate their audience with fresh ideas and innovative storytelling.

The constant battle against complacency: Johnson warns against becoming a lazy writer and stresses the importance of continuously striving for excellence. He encourages writers to keep their readers engaged by maintaining a high level of imagination, imagery, and creativity in their work. Listeners will be inspired to

avoid complacency and consistently challenge themselves to improve their craft

.
Buy The Longmire Defense
Amazon: https://amzn.to/44e4CH0
Bookshop.org: https://bookshop.org/a/54587/9780593297315
Connect With Craig
Website: https://www.craigallenjohnson.com/
Facebook: https://www.facebook.com/OfficialCraigJohnson/
Twitter: https://twitter.com/ucrosspop25
Instagram: https://www.instagram.com/ucrosspop25/
Connect with Mike
Website: https://uncorkingastory.com/
Youtube: https://www.youtube.com/channel/UCSvS4fuG3L1JMZeOyHvfk_g
Instagram: https://www.instagram.com/uncorkingastory/
TikTok: https://www.tiktok.com/@uncorkingastory
Twitter: https://twitter.com/uncorkingastory
Facebook: https://www.facebook.com/uncorkingastory
LinkedIn: https://www.linkedin.com/company/uncorking-a-story/
If you like this episode, please share it with a friend. If you have not done so already, please rate and review Uncorking a Story on Apple Podcasts, or wherever you get your podcasts.
#UncorkingAStory #StorytellersUncovered #InfluenceOfBackgrounds #WritingJourney #WesternWriting #NetflixShow #BookTour #AuthorExperience #StayingPower #PopCulture #FavoriteTVShows #WritingAdvice #BookContracts #PreciousTime #DearYoungerMe #StorytellingCraft #TVAdaptation #WritingChallenges #OriginalityInWriting #MissingRifle #WaltLongmire #WesternMovies #BookSales #TouringLife #WritingPassion #PatienceAndPrecision #PreparingForTheUnknown #ValueOfWritingBooks #BalancingLifeAndWriting #WritingMotivation #AuthorInterview