One of the expressions my father is very fond of saying is, "Everything happens for a reason." He's also fond of saying, "If a problem can be solved with money, it's not really a problem," which is easy to say when one has money, but I digress. Over time, I have come to realize that yes, everything does happen for a reason, and today's guest, the prolific Christopher Rice, agrees with me (and dad). While he had dreams of becoming an actor, those plans changed when he went from being the star of his high school drama club to finding that Brown University's drama department weren't salivating at his acting talents. So, he turned to writing and the rest is history.
Meet Christopher Rice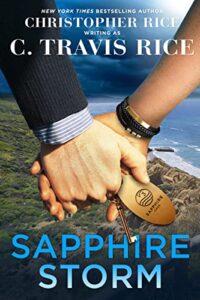 Christopher is the recipient of the Lambda Literary Award and is the Amazon Charts and New York Times bestselling author of A Density of Souls; Bone Music, Blood Echo, and Blood Victory and Bram Stoker Award finalists The Heavens Rise and The Vines. He is an executive producer of The Vampire Chronicles and The Lives of the Mayfair Witches, the AMC television adaptations of the bestselling novels by his mother, Anne Rice. He joined me on Uncorking a Story to talk about his career and latest novel Sapphire Storm, the third book in the Sapphire Cove series.
Key Topics:
How "failing" as an actor fueled his desire to become a writer.

How he found that his desire to write about gay characters was both after and before his time.

Writing his first published novel while at his mother's bedside after she slipped into a diabetic coma.

How Christopher tackled switching genres from fiction to romance.

The importance of having a supportive network and a "go-to" person to help stay motivated as a writer.
Buy Sapphire Storm:
Amazon: https://amzn.to/3J5ORL0
Bookshop.org: https://bookshop.org/a/54587/9781957568256
Connect With C. Travis Rice
Website: http://www.christopherricebooks.com/
Facebook: https://www.facebook.com/christopher.rice.writer
Twitter: https://twitter.com/chrisricewriter
Instagram: https://www.instagram.com/christopher.rice.writer/
Connect with Mike
Website: https://uncorkingastory.com/
Youtube: https://www.youtube.com/channel/UCSvS4fuG3L1JMZeOyHvfk_g
Instagram: https://www.instagram.com/uncorkingastory/
TikTok: https://www.tiktok.com/@uncorkingastory
Twitter: https://twitter.com/uncorkingastory
Facebook: https://www.facebook.com/uncorkingastory
LinkedIn: https://www.linkedin.com/company/uncorking-a-story/
If you like this episode, please share it with a friend. If you have not done so already, please rate and review Uncorking a Story on Apple Podcasts, or wherever you get your podcasts.