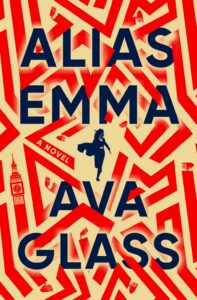 About Ava Glass: Ava Glass is a former civil servant and journalist who once worked closely with spies. She lives in the same town in the south of England as Christopher Steele. But this is, of course, a coincidence. She joined me on Uncorking a Story to talk about her career and latest novel, Alias Emma.
In this episode, Mike and Ava discuss: 
Being captured by writing while living on the careening train of life. 

Your first published book not being your first attempt at writing a book. 

Surprises in the publishing industry. 

Worrying too much and living the advice you would tell your younger self. 
Key Takeaways: 
Reading is not necessarily the path to being a writer, but it does help cultivate an active imagination. 

Story ideas can come from anywhere – careers, television, news articles, travel, and so many more places. Keep your eyes and ears open and you will become inspired.

You can learn a lot about yourself as you write fiction. 

No chapter gets more rewritten than chapter one. You don't have to worry if it is awful, because it is just going to be rewritten. 
"Making things up for a living is the ultimate indulgence of your inner child. I make up people; I make up stories. I tell stories to myself constantly. I feel like, in every book, I'm going to be telling stories to people. So that is the ultimate gift I could give my inner kid." – Ava Glass
Buy Alias Emma
Amazon: https://amzn.to/3PtYFhW
Bookshop.org: https://bookshop.org/a/54587/9780593496794
Connect with Ava
Website: https://www.avaglass.uk/ 
Instagram:https://www.instagram.com/avaglassbooks/
Twitter: https://twitter.com/AvaGlassBooks
Connect with Mike Carlon:
Website: https://uncorkingastory.com/
Youtube: https://www.youtube.com/channel/UCSvS4fuG3L1JMZeOyHvfk_g
Instagram: https://www.instagram.com/uncorkingastory/
Twitter: https://twitter.com/uncorkingastory
Facebook: https://www.facebook.com/uncorkingastory
LinkedIn: https://www.linkedin.com/company/uncorking-a-story/