Look up the definition of Renaissance man in the dictionary and I'm pretty sure you will find a picture of Aug Stone. He's a singer/songwriter, author, and comic whose alter ego Young Southpaw has been described as a character who traffics in short, memorized bursts of pun-filled, pop-cultural streams of consciousness.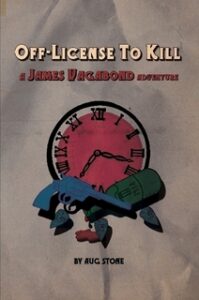 I recently sat down with Aug to discuss his careers as a musician, author, and comic. Along the way we touch upon Van Halen, overcoming introversion to become a world-class performer, Chinese astrology, and, of course, the birth of Young Southpaw. I also learned that, at a young age, he wanted to be a wizard when he grew up but had to "settle" for being a professional musician. While all of that made for a very entertaining interview, I  think what I loved most about our chat was realizing that Aug embodies a certain characteristic that I've uncovered in many of the most successful entrepreneurs I've interviewed on Uncorking a Story—the ability to put thought into action.
You can pick up his novel, Off License to Kill, here, or wherever you prefer to buy books online. For more on Aug, visit www.AugStone.com and www.YoungSouthpaw.com (to have your mind blown).